Fortune
AEGEAN OIL in the list of the Most Admired Companies 2022
AEGEAN OIL has once again been included in the list of the most admired Greek companies, ranking 13th in the general ranking and 1st in the "ENERGY" category, among the 380 largest companies that participated in the MOST ADMIRED COMPANIES 2022, the largest corporate reputation survey conducted by FORTUNE in collaboration with KPMG.
As part of the survey, 2000 top executives of the largest companies voted and highlighted those companies that met the requirements of the MOST ADMIRED COMPANIES survey, with corporate responsibility, innovation, extroversion, and financial health being just some of the criteria met by the companies that stood out in a particularly difficult economic and social climate.
For AEGEAN OIL, which is at the top of the list, this distinction is particularly important, rewarding its rising and continuously evolving business path and at the same time creating even greater commitments in its constant effort to provide quality and innovative products and services.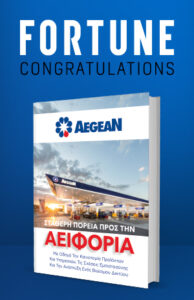 The MOST ADMIRED COMPANIES survey this year became even more important as it was conducted under the shadow of the Covid-19 pandemic, where the sensitivity and solidarity shown by the business community expanded its social footprint, putting people and society in the spotlight.
AEGEAN OIL, with a deep culture of social contribution, supported the work of the National Health System in the fight against the pandemic from the very first moment, while the mobile health units (MHUs) of EODY were powered by AEGEAN OIL sponsorship fuel.